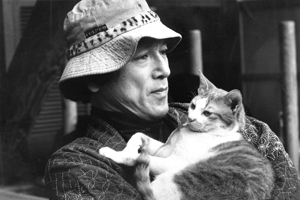 Juzo Itami was a genius who exhibited a broad variety of talents across a range of fields such as being a commercial designer, actor, essayist, television presenter, magazine editor-in-chief and film director.
In addition, he was also well known for having deep insight as a hobbyist across various areas such as being a music aficionado, cat lover, vehicle enthusiast and culinary connoisseur.
In the "Permanent Exhibition Room" there are 13 corners which follow the meaning of the name "Juzo", namely "13", so that you can trace Itami's footprints with tangible materials. You will be sure to come across unknown aspects of the man known as Juzo Itami here.
In the "Special Exhibition Room", we will set up our own unique themes from time to time which will enable you to explore certain contents in greater depth. We are delighted to give you the opportunity to perceive and contemplate the ideas, methods, imagination, work touches, and individual personality of Juzo Itami's work, flowing from his outstanding observational powers.
After visiting the "Special Exhibition Room", we look forward to inviting you further into the world of Juzo Itami while enjoying a relaxing time in our "Café" which also prepares beverages such as champagne, which was always a favorite of Mr. Itami, and the "Corridor" that surrounds the courtyard.